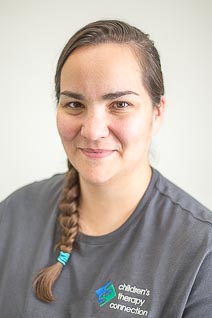 Tiffany Roberts is a speech-language pathologist for Children's Therapy Connection with experience treating children and adults. 
Growing up in northeastern Indiana, she received her BS in Speech Therapy from Purdue University in 2008.  Tiffany then completed her Masters in Speech-Language Pathology through Tennessee State University in 2010.   She is nationally certified through the American Speech-Language-Hearing Association (ASHA), licensed by the State of Indiana.
Tiffany began working for Children's Therapy Connection in 2016 and sees First Steps kids in Marion county.  Prior to joining CTC, she worked for 6 years as an SLP in the schools, nursing homes, and outpatient working with children and adults.   She has experience with implementation of functional communication strategies in children with limited or nonfunctional speech.  Family-centered care is one of her top priorities and she is passionate about developing strategies to help children and families succeed in their everyday environment.
Tiffany lives on the west side of Indy with her cat.  She is an acid Science Fiction fan and enjoys spending time with her family, trying new places/foods, and traveling.
Need more information?
Learn more about our speech therapy services.