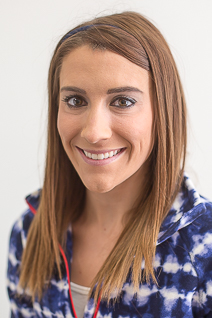 Kelsey Miller is a part-time speech-language pathologist with Children's Therapy Connection.  Kelsey provides services for children and families at our clinic as well as for those enrolled in the Indiana First Steps program.
Kelsey earned her Bachelor of Health Sciences in Communication Disorders from the University of Kentucky in 2011 and her Master of Arts in Speech and Hearing Sciences from Indiana University in 2013.  Since then, Kelsey has worked in a variety of settings including charter and public schools, a pediatric hospital in the Indianapolis area, in home therapy (First Steps), and at our clinic.
Kelsey's areas of professional interest include Childhood Apraxia of Speech (CAS), Augmentative and Alternative Communication (AAC) for children who have limited speech, articulation/phonological disorders, fluency, and language delays. Kelsey also enjoys working with children who have communication difficulties resulting from autism spectrum disorders, Down syndrome, traumatic brain injury, and other disorders.  Kelsey believes in delivering family-centered services and providing children and their families with the tools to enable progress both within and outside of therapy.
Kelsey holds national certification through the American Speech Language Hearing Association as well as licensure from the State of Indiana and the Indiana Department of Education. Kelsey is originally from Lexington, KY but now lives in downtown Indianapolis with her dog, Layla.  On the weekends, Kelsey can be found spending time with family, at the gym, or enjoying local theater performances.
Need more information?
Learn more about our speech therapy services.