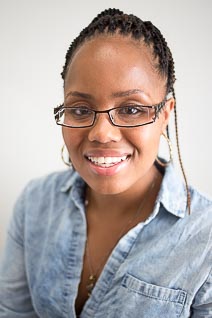 Jenna graduated from Ball State University with degrees in Early Childhood and Special Education. She has worked with infants and toddlers hands on for over 8 years in a developmental/all-inclusive classroom setup. She enjoys working with children of various backgrounds and cultures. Her approach to learning is one that is play based. She believes that play is an essential part of early learning.  Jenna began her career as a Developmental Therapy Specialist here at Children's Therapy Connection at the beginning of 2017. In her role at CTC, she finds it rewarding to provide a hands on, one on one approach to developing the essential skills for preschool and further learning.
Jenna was born in Honolulu Hawaii and raised in Northwest Indiana. She moved to Indianapolis in 2008 to complete her college education.  She currently reside on the Northwest Side of Indianapolis with her wife, outspoken daughter, and their 5 pound Yorkie, Snickers.
She is thrilled to explore and learn with your child through play and sensory experiences.
Need more information?
Learn more about our developmental therapy services.