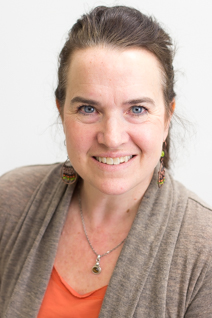 Annette Moore joined the CTC developmental therapist team in early 2015. She was born and raised in Bloomington, IN but moved to Northern California after graduating from IU Bloomington with a BS in education and a credential to teach single subject secondary education. After arriving in California her career took a turn away from education and teaching. She spent 28 years in the technology industry in a variety of roles. However, she knew her heart was to teach so in 2009 she started graduate work at San Francisco State along with beginning a teaching career as a preschool special education teacher. She has her masters and credential in early childhood special education, eight years of teaching preschool special education, and experience in home visits for both infants and toddlers as well as grade school aged children with special needs.
Annette and her husband, Pete, moved back to Indiana in the summer of 2014 to be closer to her family. She has a son, Christopher, who is in the Geotechnical Engineering masters program at UC Berkeley, and a daughter, Carrie, who is a senior at IU Bloomington studying Family Systems and youth development.  She enjoys spending time with her family and her dog. She loves to cook and bake and has developed a love for gardening and antiquing since moving to her 108 year old home.
Need more information?
Learn more about our developmental therapy services.