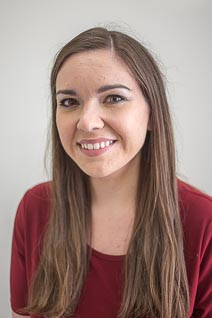 Megan is a speech-language pathologist serving Hamilton and north Marion counties as well as providing speech services at the clinic. She graduated from Eastern Illinois University with a Bachelor of Science degree in Communication Disorders and Sciences in 2013 and a Master of Science degree in Communication Disorders and Sciences in 2015. Megan moved to the Indianapolis area in 2016 from southern Illinois and began working at Children's Therapy Connection in 2017.
In Illinois, Megan worked as a speech-language pathologist within a school district and provided therapy to students from the ages of 8 to 21. She has experience in the areas of apraxia, autism, articulation disorders, language disorders, selective mutism, cerebral palsy, cognitive impairment, and stuttering.  Megan possesses the Certificate of Clinical Competence from the American Speech-Language Hearing Association and holds speech pathology licensure in Indiana and Illinois.
Megan currently lives in Westfield with her husband and enjoys being outdoors, shopping, and watching movies while eating popcorn.
Need more information?
Learn more about our speech therapy services.